< Back
Regular price
Sale price
$1,095 USD
Unit price
per
Sale
Sold out
View Size Chart
Don't see your size? Submit your request in Chat for more details.
Complimentary Returns & Exchanges.


The Sorrento men's oxford is a unique wing tip brogue because the pattern on the front of the vamp is u-shaped as opposed to a classic wing tip and the oxblood patina makes it a sophisticated pairing with your more corporate and casual-dress looks.
Fit & Size

Fit: US sizing. Fits true to size.

Di Bianco Premium: This collection was made for shoe connoisseurs looking for the best dress shoes for men that have additional touches, design details, finishing, or coloration. The attention to detail in this collection is inherent in handmade Italian men's shoes. Our leathers come from France and are of the finest True Grain leather, the highest grade of leather that requires no alterations. On Blake Rapid construction, the Premium collection has two soles which render the shoes very solid, yet they are still very elegant and light in weight. We use the finest polishes and colorants available in our hand-burnishing process. The burnishing of Di Bianco™ men's Italian shoes is a very long and intensive process that often requires the use of numerous colors in combination to attain the final color. The toes of the soles are tapped with nails, which help reduce the wear of the toe area. The inside corners of the heel are clipped to avoid catching on the cuffs of your pants.
Details

Collection: Premium

Color: Burgundy / Red

Construction: Blake Rapid

Dibianco Di Bianco Premium

Dibianco Oxfords

Material: Leather

sbp940

Size: 10

Size: 10.5

Size: 11

Size: 11.5

Size: 12

Size: 13

Size: 14

Size: 7

Size: 7.5

Size: 8

Size: 8.5

Size: 9

Size: 9.5

Sole: Leather

Type: Lace-up

Type: Oxfords

1/1: each pair of shoes is hand-burnished, thus each pair is unique.
Delivery & Returns

Orders placed M-F between 8am-4pm EST ship same day. Orders placed outside of these hours ship the following business day.
Fedex ground shipping: $24
International shipping available via DHL. Customer pays duties + shipping.
Returns & Exchanges: complimentary returns & exchanges within 30 days. Email us to initiate a return at info@scarpedibianco.com
Refer to our Shipping & Returns policy for more details.
About coloration and finishing

Our leather products are colored by hand and each shoe will show small variations in color due to this meticulous and time consuming hand coloration process. Please also note that lighting will also effect the representation of our products when viewed online through different computers and phones. We live in a world of mass production but Di Bianco is not part of that world. We are
proud to hand finish our products and beautiful variances will occur, which we believe makes them even more special. Although we try to represent the optimal color online, we cannot guarantee the color of your item will match 100%. If you would like to have a better idea of your desired shoe's actual finish please feel free to email us and we will be happy to send pictures, especially if you are trying to match a shoe to a particular belt or bag.
View full details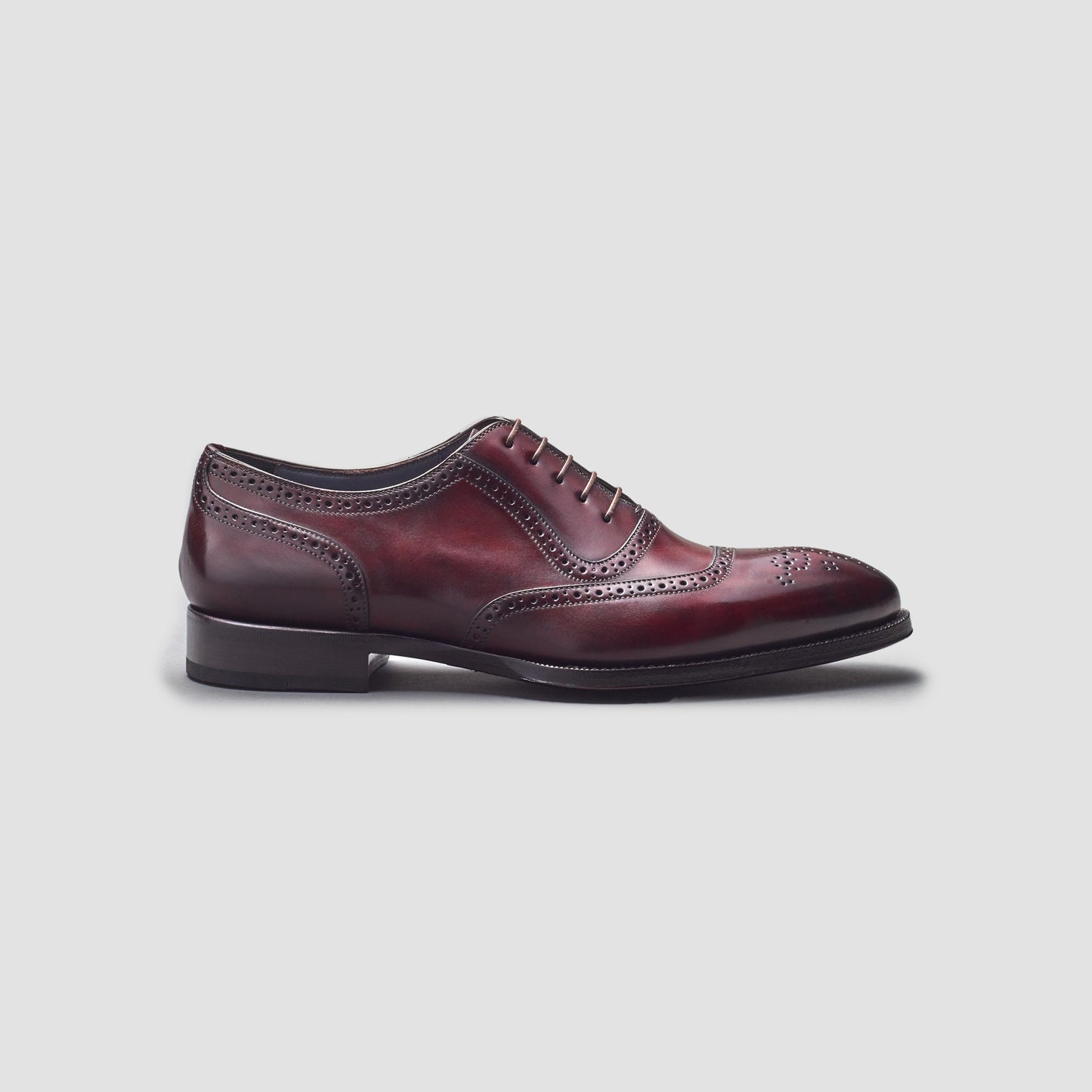 Size Chart
Shoe Size Conversion Chart
---
Scarpe Di Bianco
6D
6.5D
7D
7.5D
8D
8.5D
9D
9.5D
10D
10.5D
11D
11.5D
12D
13D
Scarpe Di Bianco unlined
5.5D
6D
6.5D
7D
7.5D
8D
8.5D
9D
9.5D
10D
10.5D
11D
11.5D
12D
UK
5
5.5
6
6.5
7
7.5
8
8.5
9
9.5
10
10.5
11
12
EU
39
39.5
40
40.5
41
41.5
42
42.5
43
43.5
44
44.5
45
46
Santoni
5.5E
6E
6.5E
7E
7.5E
8E
8.5E
9E
9.5E
10E
10.5E
11E
11.5E
12E
John Lobb
5E
5.5E
6E
6.5E
7E
7.5E
8E
8.5E
9E
9.5E
10E
10.5E
11E
12E
Scarpe Di Bianco Shoe Tree Sizing
---
Scarpe Di Bianco
6D
6.5D
7D
7.5D
8D
8.5D
9D
9.5D
10D
10.5D
11D
11.5D
12D
13D
Shoe Tree
7
7
8
8
9
9
10
10
11
11
12
13
Made to Order - Measuring Instructions
---
Measurements should be taken by a second person, meaning you should not measure your own feet.
The same thickness of sock should be worn during the measurement process that you would normally wear with these shoes.
Measurements should be taken standing with your weight balanced on both feet in a normal standing position.
Measurements ideally should be taken in centimeters. If a metric tape measure is not available inches can be used.
Use the navigation arrows to follow the steps through the measurement process.
Measurement 1: The Foot Outline
---
Using a pen, trace all the way around the foot on a white sheet of paper.
Make sure the pen is completely vertical during the tracing
Measurement 2 - The Ball of the Foot
---
Using a tailor's measuring tape in centimeters, measure completely around the widest part of the foot.
Reference points are the bones behind the pinky toe and behind the big toe.
Measurement 3 - The Arch/Instep
---
Measure completely around the arch/instep of the foot.
Reference point is the bone on the top of the foot, roughly 2 inches (5cm) closer to the ankle from the location of the Ball of Foot measurement.
Measurement 4 - The Heel
For boots and ankle boots only
---
Measure completely from the heel around the top of the foot.
Reference point is where the foot bends.
Choosing a selection results in a full page refresh.
Opens in a new window.